Карта клиента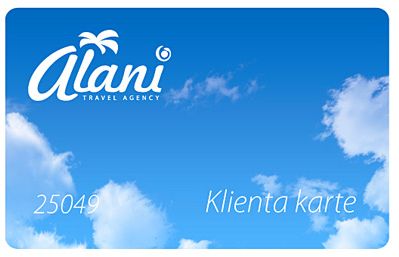 Advantages of the Client Cards Owners:
Travel package purchase with discount up to 3%. Discount is applied during the first purchase
The card belongs to the card holder, but you could freely give it to your relatives or friends
Each travel purchase (not depending on who is making a purchase) gets the 1% on the card account. This money you could use for the partly or full payment of your future travel tours. The accumulated money could use only card holder!
Client Card discounts is not summed up with other discounts or special offerings.
You could be the first to know about new and special offerings, discounts via e-mail
Special prices for the taxi services from any Riga's area to the Riga's airport.
How to get Client Card:
You could purchase client card for 10EUR in our Office at Kr.Barona street 88, Riga or by registering in the our website (all fields must be filled); 10EUR must be paid via bank.
Customer Card terms of use:
Customer cards could be used only in Alani tourism agency branches
In case of non-usage of the Customer Card during the 6th month during the card registration time by you or your friends, all sum is anulated.
Card could not be exchanged for cash
In case of card loss it could be renewed for 10EUR
Alani Travel agency is not responsible for Your lost, stolen or tainted customer cards
Simultaneous provision of discounts and bonuses is not allowed
Discount or bonus points could not be combined (in case of last minute offers or any other special offers)
In case of Customer card loss, call +371 26228085
Alani Travel Agency could change Customer card terms of use without warning
It is more profitabe to travel with us at least 2 times per year. If your plans does not allow You to travel twice per year, you could give your card to your friends or relatives.
Active clients due to friends involvement save up to 100-500 EUR! Do not hesitate to tell about us to your friends and relatives, we will provide you with a nice rest and you will get additional bonuses on you Customer card!